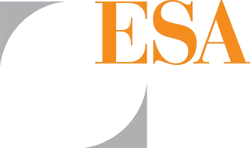 Prouct Used:
Payables Approval & Tracking
Company Overview
We are an environmental planning and design firm committed to the principles of sustainability, effective problem-solving and helping our clients confront today's challenges in project planning and environmental compliance. Ranked one of the Best Environmental Firms to Work For, our skilled managers, scientists, planners and engineers provide the kind of critical thinking, objectivity, dedication and responsiveness that is essential to a sustainable future, good environmental stewardship and to successful project completion in an increasingly sophisticated regulatory and community interest context.
Environmental Science Associates (ESA) is a leading environmental consulting firm with more than 350 employees spread across 15 offices to serve clients throughout the United States. An in-house analysis revealed a significant amount of time and resources were being spent making paper copies of vendor invoices and shipping them to approvers in various offices. A more efficient, responsive and sustainable invoicing practice was critical to maintain client service and company growth.
"EleVia's product integrates with Deltek Vision — so it's seamless, all the information is linked, and our staff is used to the look and feel of it."
"We researched payables software and found two products," said Tara Devlin, ESA senior accounts payable and payroll specialist. "One was a stand-alone product from a company that required a lot of back-end set up, and we would need to do coding and scripting," she explained. The other was EleVia Payables Approval & Tracking software (PAT). "It was really no contest. EleVia's product integrates with our existing accounting software, Deltek Vision® — so it's seamless, all the information is linked, and our staff is used to the look and feel of it," she said.
PAT is an add-on product for Deltek Vision that makes it easy for architecture and engineering firms to review, approve and track subcontractor invoices and other payables. After incoming paper invoices are scanned into PAT, the software notifies the appropriate approvers that they have invoices waiting. Approvers simply login and view electronic invoices for each project alongside the contract to compare actual vs. estimated costs. They can also mark-up the invoices easily and quickly with built-in mark-up tools.
Why EleVia Software
Time savings
‍"With EleVia's product, we estimate it takes about 50 percent less time to process vendor invoices," said Devlin, who oversaw the implementation of PAT.
Reduced shipping costs and increased environmental stewardship
‍"PAT helps us fulfill our commitment to operate as a sustainable business," Devlin said. "Since implementing it in 2013, we've reduced our paper use and shipping costs. We've eliminated one to two shipped packages a week to each office. That's more than 1,000 fewer shipments a year," she noted.
Greater PM access to information
‍"Our project managers appreciate having direct access to project-related invoice information at their fingertips," she said. "They can run reports and see details — like job-to-date billed for each vendor and if the client has been invoiced — which helps them be more responsive and informed."
Storage requirements reduced
‍"We used to keep newer vendor invoices on-site in file cabinets. Now that they're stored electronically in PAT, we have a lot more on-site storage space available," Devlin noted. "Older invoices are kept in off-site storage, and eventually we'll be able to eliminate that cost."
Faster receivables and improved client service
"Now if a client has a question about their bill, we can quickly find the back-up information instead of having to dig it out of a file cabinet. By resolving client questions faster, we're providing more responsive client service and speeding payments," Devlin explained.
"With EleVia's product, we estimate it takes about 50 percent less time to process vendor invoices."
Minimal training required
‍"I led a 45-minute remote training session for users during the rollout. We're an employee-owned company, so at least one-third of the time was spent explaining why we chose this software and the benefits employees can expect," Devlin said. "Because PAT integrates with Deltek Vision, it's intuitive to our staff; it reduced the learning curve because it feels familiar."
"EleVia's product integrates with Deltek Vision — so it's seamless, all the information is linked, and our staff is used to the look and feel of it."
Tara Devlin, ESA senior accounts payable and payroll specialist